In October the Long Island Power Authority will be opening the second round of its Clean Solar Initative program. As you may know Statewide Roofing has had an active solar energy division for several years with over 1 Megawatt of solar installed on Long Island. We are contacting our customers now because we firmly believe that this the best option LIPA has offered in the history of solar energy on Long Island.  Below is an overview of how the program could work for you. If you are interested please contact Tom Barry  for an evaluation.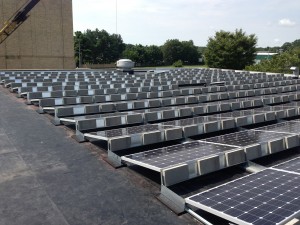 LIPA Clean Solar Initiative (CSI) Frequently Asked Questions
How do I benefit from hosting a system?
LIPA CSI Systems are third party owned. Building owners benefit by entering into a simple lease of their rooftop or land areas.  Think of it as hosting a green power plant on your roof.
What is the term of the lease?
 CSI Power Purchase Agreements are set 20-year terms.  Most contracts have an option to renew, or for the building owner to purchase the system when the lease expires. If you wish to have the system removed entirely at the end of your lease those costs are included in the original agreement.
How much can I expect as a lease payment?
This is largely dependent on the system size, and how much it costs to interconnect the system at your site.  After a roof and site analysis is completed Statewide can provide a lease estimate within 72 hours.
Will my electricity bills be reduced?
Not directly, but the lease payments could be used to offset electricity bills. CSI Systems do not utilize net metering or "make your meter spin backwards".  In fact the CSI system will not be tied into your building's electrical system in any way, it will have a separate meter and switchgear.  You will not receive bills or deal with LIPA in any way regarding the system.
What if something goes wrong with the system?
Statewide Roofing and our partners are responsible for the system. Building owners are not responsible for cleaning maintenance or any repairs of the system.  The systems will not effect the day-to-day operations of your business in any way.
What about my roof?
At Statewide Roofing our first priority is your roof.  We provide free rooftop evaluations in advance of any solar proposal. If your roof is in need of repairs, we do have options to convert the lease payments into a lump sump amount that can be used to offset roof repairs. For some customers the CSI might be a great way to re-roof and be in good shape for the next 20 years at a significantly reduced cost.